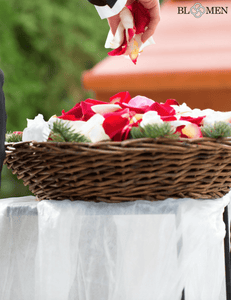 Flowers signify the start of life. Putting petals in a casket implies hope that there is a new life after death.
Colours Available: (Red, White, Pink, Lavender, Blue, Orange & Yellow)
Not sure? Give us all call today at (416) 309-1926 and we can walk you through the process. We are here to offer help and advice.
Reference#: CF-p/etals
Please Note: Since each funeral piece is made-to-order and crafted by a senior designer, we cannot guarantee orders placed less than 18 hours prior to delivery. If it is within this window, and we are unable to fulfill the order we will contact you by email or phone as soon as possible. Thank you for your understanding.

Local Delivery is Available for this Product